Showcasing the new 2022/23 Goya Sails

It takes a few seconds to give a big thumbs up to the new sails.
Just pick them up, realise how light they are. Then unroll them and realize how clean and intense then new look is.
Main innovation: weight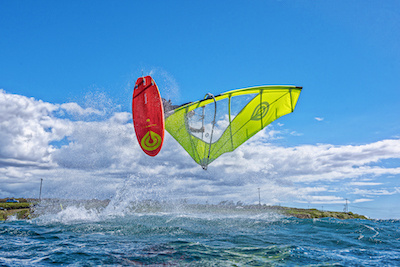 As you probably have heard already, weight reduction is the main innovation.
About 500 grams less on each sail. That is a lot!
Unmatched performance and heavy duty built are achieved by using super high quality materials, perfectly optimised assembling techniques, world class sailors on the team and years of experience
Before moving on to the sails presentation, let me remind you, if you haven't done it already, to subscribe to our newsletter. You will receive a 10% discount code valid for all on-line orders in 2022... and you can directly receive emails with our reviews, promotions and much more.
Nothing other that Jason Diffin (sail engineer) and Bjoern Zedlick's (designer) words are most appropriate to describe the new sails. This brief intro is printed on the printed version of the catalog. Here it is:
Jason Diffin: Riduzione di peso.
"The biggest overriding improvement on all 2022/23 sails is a massive weight reduction.

Half a kilogram per sail, often more, has been shed across the majority of the range.

Our focus has always been on making the lightest feeling sails, sails that fly in the hands, silky across a huge range of use, due to superbly refined weight distribution. What's all new for this year is that we were able to significantly drop the actual product weight more than ever before, resulting in the lightest Goya Windsurfing sails yet.

Big news. Less material in the batten pockets, the top and around the edges - losing swing weight, providing more lift - what it all comes down to is that stronger materials, and the evolution of how they are deployed, is enabling us to achieve the same level of build quality, at a fraction of the layers required.

All opportunities were seized to drop weight, and yet the 2022/23 range delivers the same durability you have come to expect, paired with all new levels of drive and dynamics. Bi-Ply, X-Ply, Scrim, made in the USA, like all our films, Dual Pass Lamination and UV Inhibitor, combine to provide the strongest and longest lasting films in sailmaking.

All 2022/23 sails feature tailored CNC battens for a superior profile. Along with our new mast range, including the freshly launched Ultra Pro, these new sails ride in a different league of feather weight."
Bioern Zedlick: il design.
"The 2022/23 range marks the departure of our sails from their trademark helix theme, introduced over a decade ago.

The new design is a leap toward the modern and the mature. Cleaner and leaner, both in appearance and the amount of materials used to build each sail.

Engineering and design, function and form, going hand in hand, with the overarching goal of reducing weight and creating sails of unparalleled performance."
Focus on details
Monitoring how previous years' sails are aging, Jason Diffin was able to remove excessive reinforcements.
The high quality materials proved to be more robust that expected. Pulley area, clew and top show less material stratification.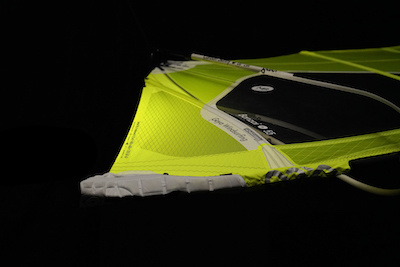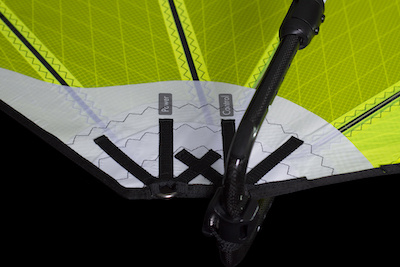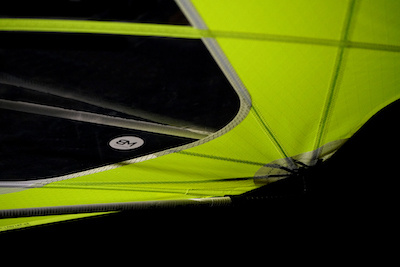 CNC shaped battens have a thinner diameter and battens' pockets are optimised saving cutting off extra weights.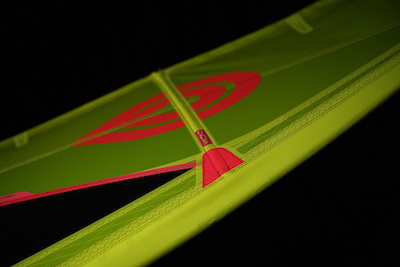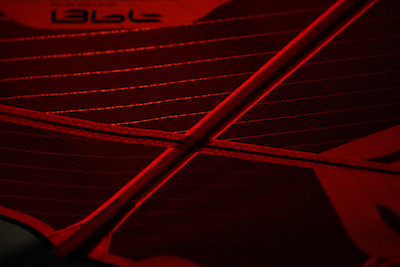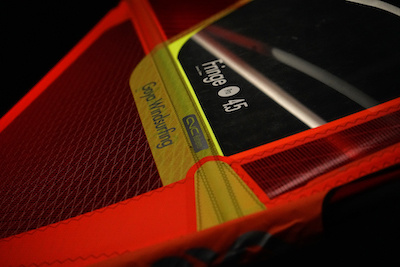 Not only light, the sails are also wizardly balanced Weigh displacement especially on the top area is crucial to reduce unpleasant swing weight.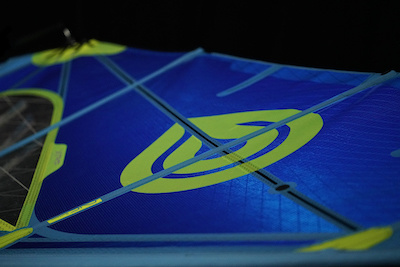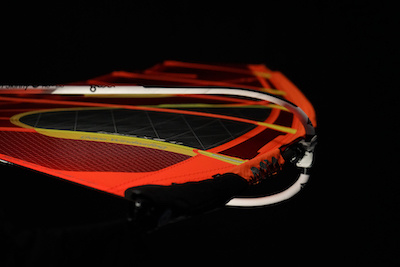 Light sails get you less tired. Not only, less downward pressure  on the boards helps get planning earlier. 
Innovation does not stop here.
Minimal structure and thinner materials make the sail stretchier. This translate in increased wind range in which the sails can perform. Sails are more powerful in the low end and less nervous in the high end.
New sails are so much more efficient that even a big guy like Marcilio Browne (86 kg.) is now using the 5.0 as before was mostly on 5.3.
First impression
Luck enought the Goya 2022/23 dealer meeting in Tarifa was windy. I had the chance to get in the water and try out most of the new sails.
I was impressed right from the beginning. The weight reduction is so obvious that even bringing the gear to the water has a different feel. 
As soon as the sail gets filled by the wind, the board stats gliding smooth and effortless. Same feeling of stability and control that we've been used to with Goya sails.
I also felt the new stretchier structure. Actually, I did not feel it, as the sails works continuously and imperceptibly, without interfering with steering.  
The drive is precise and comfortable. With gusty wind I could also explore the low end and the high end. I never felt out of range. The new sails are definitely more efficient.
10 different models
The Banzai, the Fringe, the Eclipse and the Guru are the wave sails. Flat water sails are the Nexus, the Mark and the Mark 2. The Scion X is the groms sails and the Surf is for schools and beginners. Different versions come with different materials: monofilm, Bi-Ply, X-Ply and Scrim.
Banzai Pro e Banzai X Pro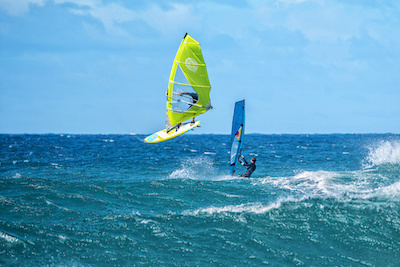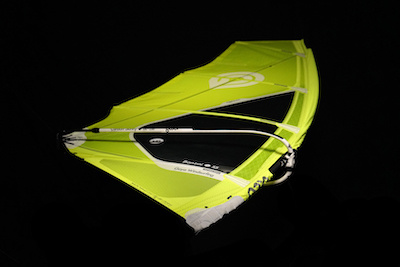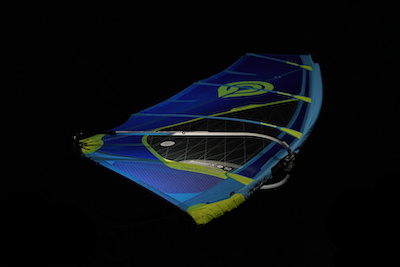 Banzai is the best seller and most sailed 4 batten wave sail on the market. Devoleped by Marcilio Browne and Kai Lenny. Extremely multipurpose sail for conditions and style of riding. It offers a huge range of trimming.
It is a direct sail with defined back-hand steering. It generated immediate acceleration and a powerful and precise drive. 
With this big weight reduction, I was happy to find it less physical than previous models and with increased efficiency. 
Very hard to find some criticism in this year Banzai.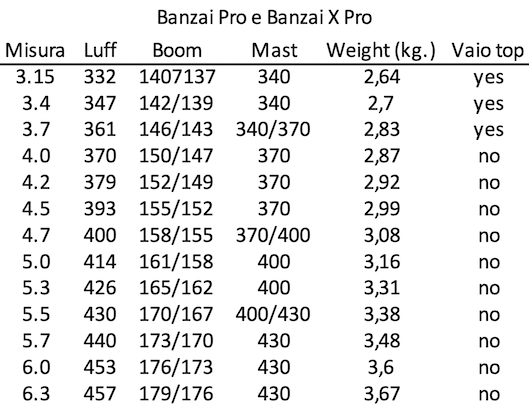 Fringe Pro e Fringe X Pro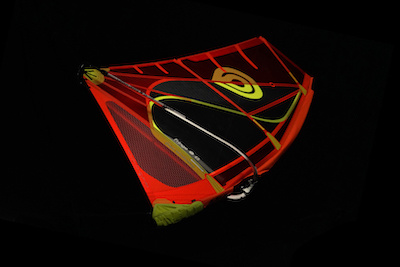 The Fringe always gets my attention. I've been using it as my wave sail and I've been following how it has developed.
It was light. Now it's crazy light.
It's a 3 batten sail, born for pure wave sailig. As a matter of fact it is as much used and loved in a variety of conditions and purposes.
While sailing on the Fringe you feel like you're holding nothing, but the sail is actually creating drive and you are gliding. The lower batten connected to the clew gives direct steering.
A very not physical sail. It allows to focus on the board. It leads to adding some extra volume to the board and not increasing sail size. 
Smaller light weight riders tend to love the Fringe as much as the ladies for the effortless performance. Bigger riders that needs big sail to wave sail will also love it for its efficiency.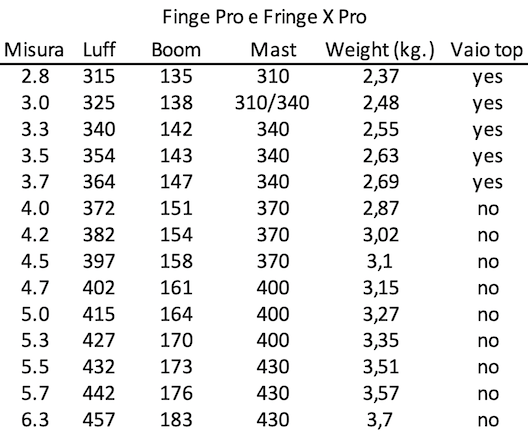 Eclipse Pro e Eclipse X Pr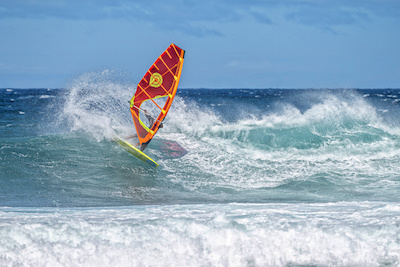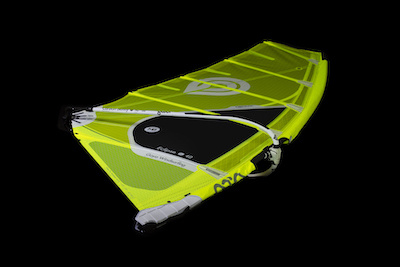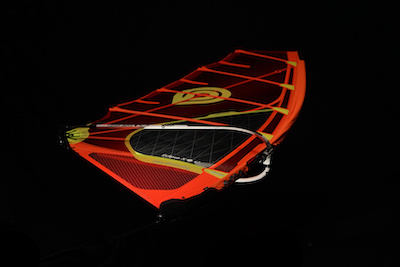 The Eclipse, 5 batten power.
It ended up on the bench once the Banzai went on the pitch.
This year drastic weight reduction gave room for that 5th batten to achieve that power, stability and control that many riders and spots demand. 
It offers an extra gear in on-shore condition because it's boost and upwind abilities. Strong and heavy riders want the Banzai to go big even when conditions are tricky and harsh. Do not surprise if you see Brawzinho in Sylt or Pozo going for the Eclipse instead of the Banzai.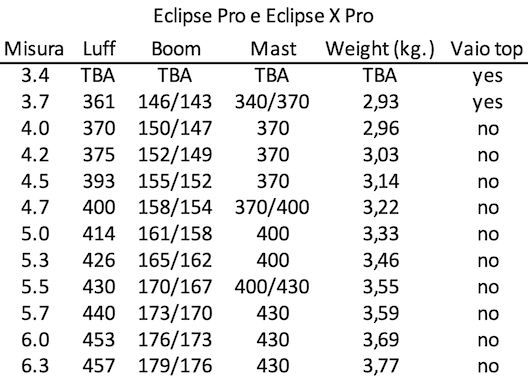 Pro vs X Pro
Banzai, Fringe are Eclipse are available in two versions: Pro and X Pro.
The Pro version has a Bi-Ply window. Bi-Ply is two layers of laminated clear film, lasting about 3x longer than mono film. It is UV protected and highly resistant to hard creases.
The X Pro version has the same window film as the Pro, equally UV protected and highly resistant to hard creases, with the addition of ultra strong Spectra yarns for added tear resistance
Weight different among the two versions is totally neglectable. The added Spectra yarn is  too light to be read on a scale. Most sensitive riders will claim the X Pro to be stiffer. But this is a difference that I can hardly feel.
Guru X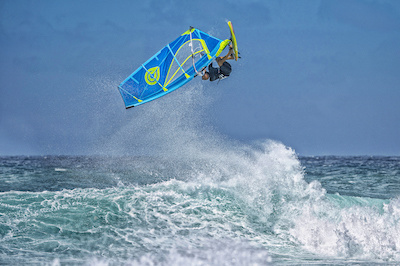 If you want a sail that will last for years and that lets you navigate for hours careless of gusts, Se vuoi una vela più resistente delle altre (finestra in X-Ply e PVC) e che ti consenta di rimanere in acqua quando gli altri escono a mettere una vela più piccola o perché stremati dalla stanchezza, la Guru X è la tua vela, è la vela perfetta.
This sail's project has its roots in the Simmer X-Flex (a couple of decades ago). The name comes from its main ambassador: Keith Teboul. And that's Francisco Goya's choice when Ho'okipa delivers. I guess I can say that the Guru X is the perfect sail.
Smooth power delivery and progressive twist. Huge range of regulations and wind range. Mostly used in strong wind spots as Pozo and the Gorge.
It is the less physical wave of the line. It doesn't mean you'll be stuck. The sail delivers power without getting you tired. More water time and more fun for you.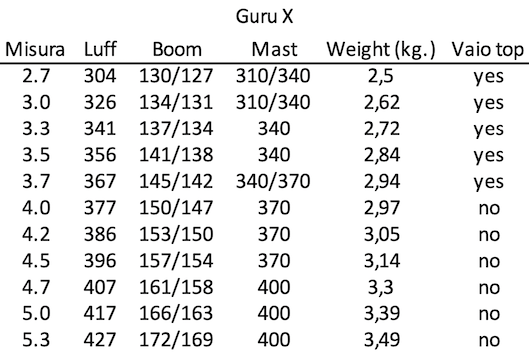 Cypher Pro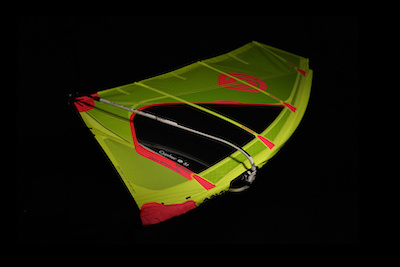 it's new freestyle sail developed by Antoine Albert.
The primary focus was to go as light as possible. The 4.8 weights less the 3 kg.!
It is super light, but it is a Goya sails. Monofilm window, yellow Bi-Ply panels and Scrim will make the Cypher last more than ordinary freestyle sails.
The Cypher generates tremendous lift. The sail's power will tend to lift the board for early planning and massive pop.
The outline is new: shorter booms will help with spins and ducks.
The Cypher characteristics make it perfect for wind foiling as well.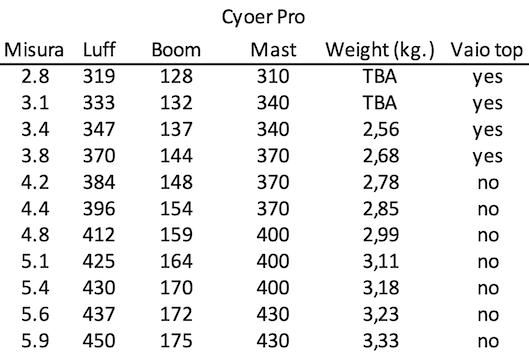 Cypher vs Fringe
With very similar weights, Cypher and Fringe are the lightest of the line.
The 4 batten Cypher is more stable and has more control in stronger winds.
Cypher generates power upward to maximise pop.
The Fringe delivers power neutral or slightly downward, making you feel comfortable and settled on your board.
Mark, Mark B e Mark X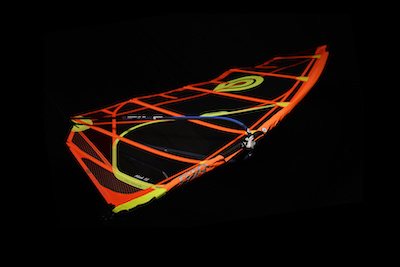 The Mark is 6 batten flat water sail for freemove, freeride, freerace and slalom board.
One batten less than most of its competitor makes it more accessible and less demaning energy wise.
Its purpose is to get you to your top speed in the easiest and effortless manner as possible.
It is intuitive and easy to rig and trim. RDM and SDM will both work, except for 5.4 and 5.8 that require RDM 400).
Available in 3 versions: Mark (monofilm and Scrim), Mark X (X-Ply and Scrim) and Mark B (Bi-Ply and Scrim) with interesing price differences.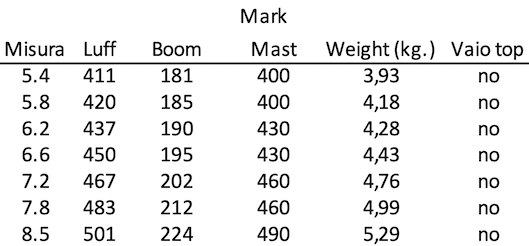 Mark 2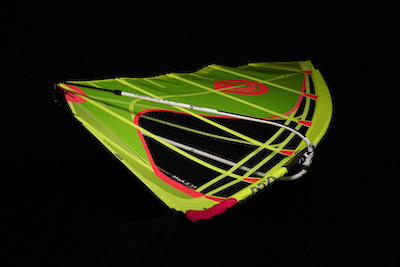 Mark 2 was introduced in 2020. It is 6 batten twin camber sail.
Few other sails on the market share the same specs. I find a winning solution.
To spice up medium and light wind sessions, many windsurfers go for slalom/race gear soon finding technical and physical limits. And that's where the fun stops. The Mark 2 let you get all the horse power out of your board withtout ending your batteries after half an hour.
Mark 2, as the Mark, is easy to trim and to use. Cambers rotates smoothly and effortlessly.
This sail will create less pressure downward on the board making planning faster. The two cambers provide extra horse power to increase speed in gusts and lulls.
Both RDM and SDM cambers are providedl All sizes (except 5.4 and 5.8) go with RDM and SDM.
Rigged with SDM the sail is more stable and powerful. With RDM is more foregiving and friendly.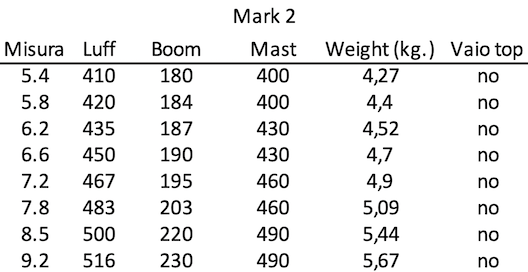 Nexus e Nexus B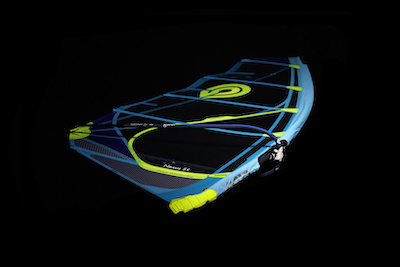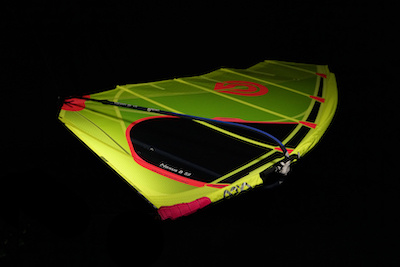 The Nexus is a 5 batten freemove/freeride sail.
Stability, speed and control are its main traits. It's a plung and play sail that suits a large variety of riders, boards and conditions. 
Smaller sizes of the Nexus B are now cut with higher foots for tight maneuvering, and larger sizes are cut more for low-end power and speed.
It comes in the more resistant Bi-Ply versione (Nexus B) and in the more convenient monofilm (Nexus) version. RDM and SDM work on all sizes except for 5.4 and 5.8 that require RDM.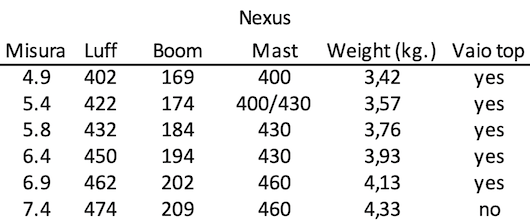 Surf e Scion X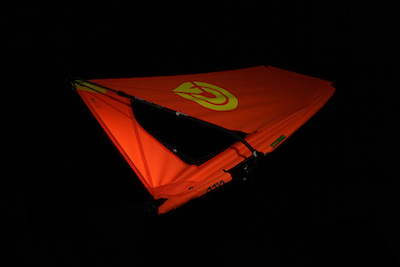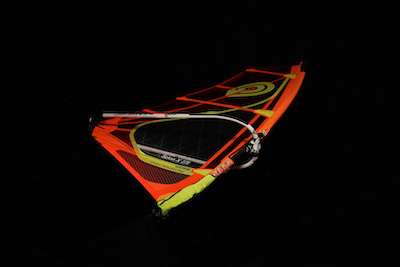 Surf and Scion X are for beginners and kids that want to rip for real.Per i surfisti più piccini e per i principianti Goya propone la Surf e la Scion X.
The Surf is a dacron sails for schools and beginners with insane longevity. è una vela in Dacron per principianti e per le scuole.
The Scion X is a real wave sail scaled down to kids size. It comes from the Fringe file. It has no limit conditions and abailities wise. 
Young Canary talents like Canarie Marino Gil Gherardi and María Morale Navarro joined the Goya team ripping like pro on the Scion X.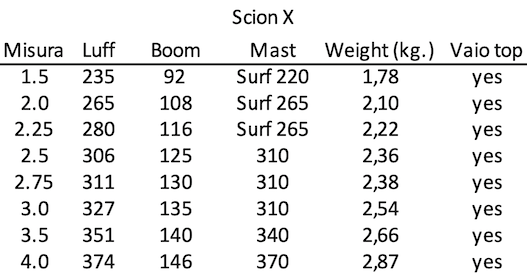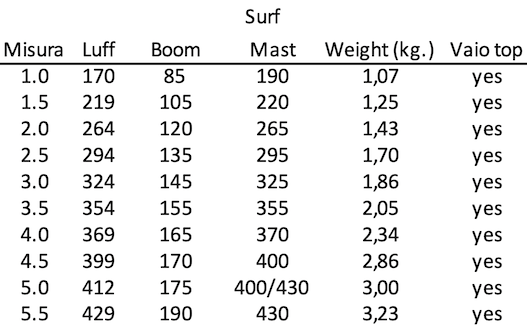 Conclusione
Never we witnessed such a big innovation in Goya sails as this year!
In recent years Goya sails have conquered most of the windsurfing spots around the globe. With outstanding performance and extended life time, a few grams more that other brads were not an issue.
With weights now paired with the lightest sail on the market, and inaltered quality built, it'll be tough for competitors to save their market's share.
If you'd like to have a quote or you'd like to discuss together which sail best suit your needs, you can get in touch with me by phone, writing an email, or starting a Whatsapp chat.
Alberto  
detour.surf
Se non lo hai ancora fatto, iscriviti alla newsletter di detour.surf: riceverai subito un buono sconto del 10% valido per tutto l'anno, su tutti gli acquisti fatti online.... e riceverai in anteprima, via email, le prossime pubblicazioni!
Be the first to comment...