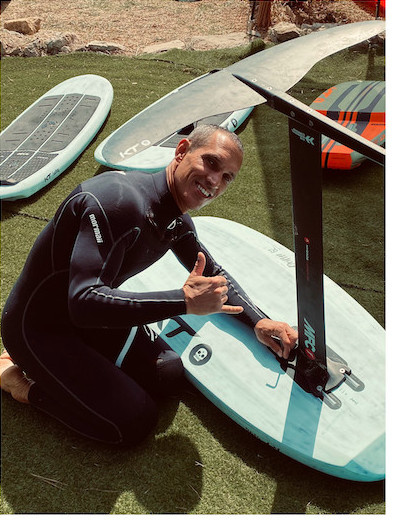 Hi!
My name is Alberto. Since 2008 I own and run detour.surf, a surf shop located on lake Garda (Italy). Before I took over, the shop was called Detour and it was founded in the early 80's when windsurfing exploded.
detour.surf is one of Italy's most popular windsurfing shop. Windsurfing is still our focus from wave riding to slalom sailing and with lots of attention to wind-foiling. 
Being curious and active water sportsmen, we've been able to successfully include in our offer stand up paddling, wakeboarding, kitesurfing and surfing. Since 2020, wing-foiling also took up a lot of space in our store.
Driven by the same dedication and passion we select the best brands and establishing strong business relations we guarantee the best shopping experience.
We try our best to have throughout the year a rich selection of wetsuits and all the water wear accessories needed.
We also sell used gear. You can find out on our website what used gear is in stock:
Other then being often present in store, I personally take care of our web content, from e-com to newsletter and emails. I like to have personal relations with customers who cannot visit os in store. That's why I'm more than happy to reply to emails, phone calls and whatsapp messages. I'm really into windsurfing, wind-foiling, wing-foiling and SUP  and I really enjoying sharing experiences and technical insights.
If you need directions to get to our store or want to know our time schedule please visit this page.
If you have any questions, feel free to contact us filling out this form or you can easily start a whatsapp chat with me.
Enjoy surfing,
Alberto.
PS: Follow me on my Instagram page.
PPS: detour.surf is an e-commerce and a physical store property of:
Detour Boards Division di Lovison Alberto
via Bella Italia, 35/B, 37019 Peschiera del Garda
T +39(0)452589048
mob. +393488534172
VAT n: 03810640239
Registration n.: LVSLRT78R28Z614X
Reg. Impr.: VR 367621